Are we Americans being foolish?
Is the elections coming up? Oh I wouldn't know from all the reminders that we should vote for one devil over the other. I've been raging over our debates for president as neither candidate has shown an ounce of majority against the other. Do we want to be a country that the world believes is fools? Do we want to be the people that nuke ourselves?
My first impression of the presidential debates is that we are watching two children fight without a weapon. What I mean by this is that both candidates have major issues publicly and under the rug but the worst is that they know that they have these problems over one another. Are we allowing ourselves to be made fools at the very thought of such a lively and hateful debate? I know with voting day coming up next week my mind is very fluidly trying to pretend our country is not falling into the seamless whim of what the world would call stupidity. So, first let me hit you with some information on Hillary again as that sounds important before we discuss the man who can't intelligently explain what he wants to do.
When the FBI finds those emails that we all know is leading to making her a traitorous person, we shouldn't be giving her the time of day to be president. No one knows what these files say or how these files display such vast information that America would consider it a key to closing down Hillary. But in my eyes, if the wicked witch has been doing something behind our country's back why should we place her on a pedestal to keep doing it? I find that even more ridiculous than playing the blame game with a parent.
https://www.youtube.com/watch?v=-nQGBZQrtT0
Alright, so we all love a good parody especially when it's Saturday night live. Parodies typically play off of the reality of what is this they are parodying as we all know the presidential debate is a parody all on its own at this point.What we do know is that Donald keeps his tax returns hidden but hell who wouldn't? I mean I don't want my tax returns out there for the entire world to see that's like screaming look at this woman in poverty struggling let me wave her work everywhere.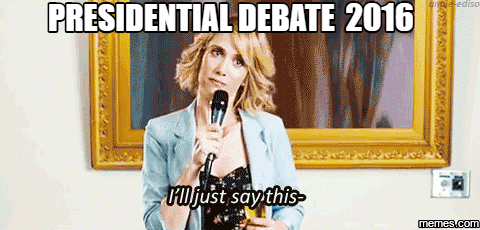 The problem I see with trump is that he is honest with a twinge of a snake's tongue. He is making us believe that he will do right by the people but we all know he is building a new hotel. On the other hand, do we want Hillary to bring us straight into World War Three without our guns loaded? I am not complaining about per say that either candidate has a right to be president but rather I ponder how either of them are able to run in this presidential campaign.
Other countries consider us fools and if we continue to allow our country to be run by either of them we mine as well pack our bags and move the freak out of this place. We get what we ask for and if our country properly educated  the people they would see how this country looks foolish in the eyes of every other. But we get what we ask for, and we will be stuck with one devil over the other guaranteed unless everyone votes for a third party nomination. We want our country fixed but the people keep putting people in office that want to see fade.  The important questions that we needed to have answered all got bashed by words about one another. Does our education mean that trump is sexist which he is? Does our social security deficit mean we can covering up that  trump is withholding his tax information?  I mean the joke we saw before us on the last debate makes me terrified to know what our election will hold for us. 
Anyways, I will be working on a Beyond that place post soon, a song bird's wit, exotic love, and some other stuff . Meanwhile, feel free to roam around and comment on posts I respond fast, and I love chatting.
https://www.youtube.com/watch?v=oUHcofV1tLo